Warning: preg_match(): Compilation failed: invalid range in character class at offset 4 in /home/davidgest/567CXUQN/htdocs/davidgest/wp-content/plugins/lightbox-plus/classes/shd.class.php on line 1384

Warning: preg_match(): Compilation failed: invalid range in character class at offset 4 in /home/davidgest/567CXUQN/htdocs/davidgest/wp-content/plugins/lightbox-plus/classes/shd.class.php on line 1384

Warning: preg_match(): Compilation failed: invalid range in character class at offset 4 in /home/davidgest/567CXUQN/htdocs/davidgest/wp-content/plugins/lightbox-plus/classes/shd.class.php on line 1384

Warning: preg_match(): Compilation failed: invalid range in character class at offset 4 in /home/davidgest/567CXUQN/htdocs/davidgest/wp-content/plugins/lightbox-plus/classes/shd.class.php on line 1384

Warning: preg_match(): Compilation failed: invalid range in character class at offset 4 in /home/davidgest/567CXUQN/htdocs/davidgest/wp-content/plugins/lightbox-plus/classes/shd.class.php on line 1384

Warning: preg_match(): Compilation failed: invalid range in character class at offset 4 in /home/davidgest/567CXUQN/htdocs/davidgest/wp-content/plugins/lightbox-plus/classes/shd.class.php on line 1384

Warning: preg_match(): Compilation failed: invalid range in character class at offset 4 in /home/davidgest/567CXUQN/htdocs/davidgest/wp-content/plugins/lightbox-plus/classes/shd.class.php on line 1384

Warning: preg_match(): Compilation failed: invalid range in character class at offset 4 in /home/davidgest/567CXUQN/htdocs/davidgest/wp-content/plugins/lightbox-plus/classes/shd.class.php on line 1384

Warning: preg_match(): Compilation failed: invalid range in character class at offset 4 in /home/davidgest/567CXUQN/htdocs/davidgest/wp-content/plugins/lightbox-plus/classes/shd.class.php on line 1384

Warning: preg_match(): Compilation failed: invalid range in character class at offset 4 in /home/davidgest/567CXUQN/htdocs/davidgest/wp-content/plugins/lightbox-plus/classes/shd.class.php on line 1384

Warning: preg_match(): Compilation failed: invalid range in character class at offset 4 in /home/davidgest/567CXUQN/htdocs/davidgest/wp-content/plugins/lightbox-plus/classes/shd.class.php on line 1384

Warning: preg_match(): Compilation failed: invalid range in character class at offset 4 in /home/davidgest/567CXUQN/htdocs/davidgest/wp-content/plugins/lightbox-plus/classes/shd.class.php on line 1384

Warning: preg_match(): Compilation failed: invalid range in character class at offset 4 in /home/davidgest/567CXUQN/htdocs/davidgest/wp-content/plugins/lightbox-plus/classes/shd.class.php on line 1384

Warning: preg_match(): Compilation failed: invalid range in character class at offset 4 in /home/davidgest/567CXUQN/htdocs/davidgest/wp-content/plugins/lightbox-plus/classes/shd.class.php on line 1384

Warning: preg_match(): Compilation failed: invalid range in character class at offset 4 in /home/davidgest/567CXUQN/htdocs/davidgest/wp-content/plugins/lightbox-plus/classes/shd.class.php on line 1384

Warning: preg_match(): Compilation failed: invalid range in character class at offset 4 in /home/davidgest/567CXUQN/htdocs/davidgest/wp-content/plugins/lightbox-plus/classes/shd.class.php on line 1384

Warning: preg_match(): Compilation failed: invalid range in character class at offset 4 in /home/davidgest/567CXUQN/htdocs/davidgest/wp-content/plugins/lightbox-plus/classes/shd.class.php on line 1384

Warning: preg_match(): Compilation failed: invalid range in character class at offset 4 in /home/davidgest/567CXUQN/htdocs/davidgest/wp-content/plugins/lightbox-plus/classes/shd.class.php on line 1384

Warning: preg_match(): Compilation failed: invalid range in character class at offset 4 in /home/davidgest/567CXUQN/htdocs/davidgest/wp-content/plugins/lightbox-plus/classes/shd.class.php on line 1384

Warning: preg_match(): Compilation failed: invalid range in character class at offset 4 in /home/davidgest/567CXUQN/htdocs/davidgest/wp-content/plugins/lightbox-plus/classes/shd.class.php on line 1384

Warning: preg_match(): Compilation failed: invalid range in character class at offset 4 in /home/davidgest/567CXUQN/htdocs/davidgest/wp-content/plugins/lightbox-plus/classes/shd.class.php on line 1384

Warning: preg_match(): Compilation failed: invalid range in character class at offset 4 in /home/davidgest/567CXUQN/htdocs/davidgest/wp-content/plugins/lightbox-plus/classes/shd.class.php on line 1384

Warning: preg_match(): Compilation failed: invalid range in character class at offset 4 in /home/davidgest/567CXUQN/htdocs/davidgest/wp-content/plugins/lightbox-plus/classes/shd.class.php on line 1384

Warning: preg_match(): Compilation failed: invalid range in character class at offset 4 in /home/davidgest/567CXUQN/htdocs/davidgest/wp-content/plugins/lightbox-plus/classes/shd.class.php on line 1384

Warning: preg_match(): Compilation failed: invalid range in character class at offset 4 in /home/davidgest/567CXUQN/htdocs/davidgest/wp-content/plugins/lightbox-plus/classes/shd.class.php on line 1384

Warning: preg_match(): Compilation failed: invalid range in character class at offset 4 in /home/davidgest/567CXUQN/htdocs/davidgest/wp-content/plugins/lightbox-plus/classes/shd.class.php on line 1384

Warning: preg_match(): Compilation failed: invalid range in character class at offset 4 in /home/davidgest/567CXUQN/htdocs/davidgest/wp-content/plugins/lightbox-plus/classes/shd.class.php on line 1384

Warning: preg_match(): Compilation failed: invalid range in character class at offset 4 in /home/davidgest/567CXUQN/htdocs/davidgest/wp-content/plugins/lightbox-plus/classes/shd.class.php on line 1384

Warning: preg_match_all(): Compilation failed: invalid range in character class at offset 4 in /home/davidgest/567CXUQN/htdocs/davidgest/wp-content/plugins/lightbox-plus/classes/shd.class.php on line 700

Warning: Invalid argument supplied for foreach() in /home/davidgest/567CXUQN/htdocs/davidgest/wp-content/plugins/lightbox-plus/classes/shd.class.php on line 707

Warning: preg_match_all(): Compilation failed: invalid range in character class at offset 4 in /home/davidgest/567CXUQN/htdocs/davidgest/wp-content/plugins/lightbox-plus/classes/shd.class.php on line 700

Warning: Invalid argument supplied for foreach() in /home/davidgest/567CXUQN/htdocs/davidgest/wp-content/plugins/lightbox-plus/classes/shd.class.php on line 707

SOUL TRAIN TOUR UK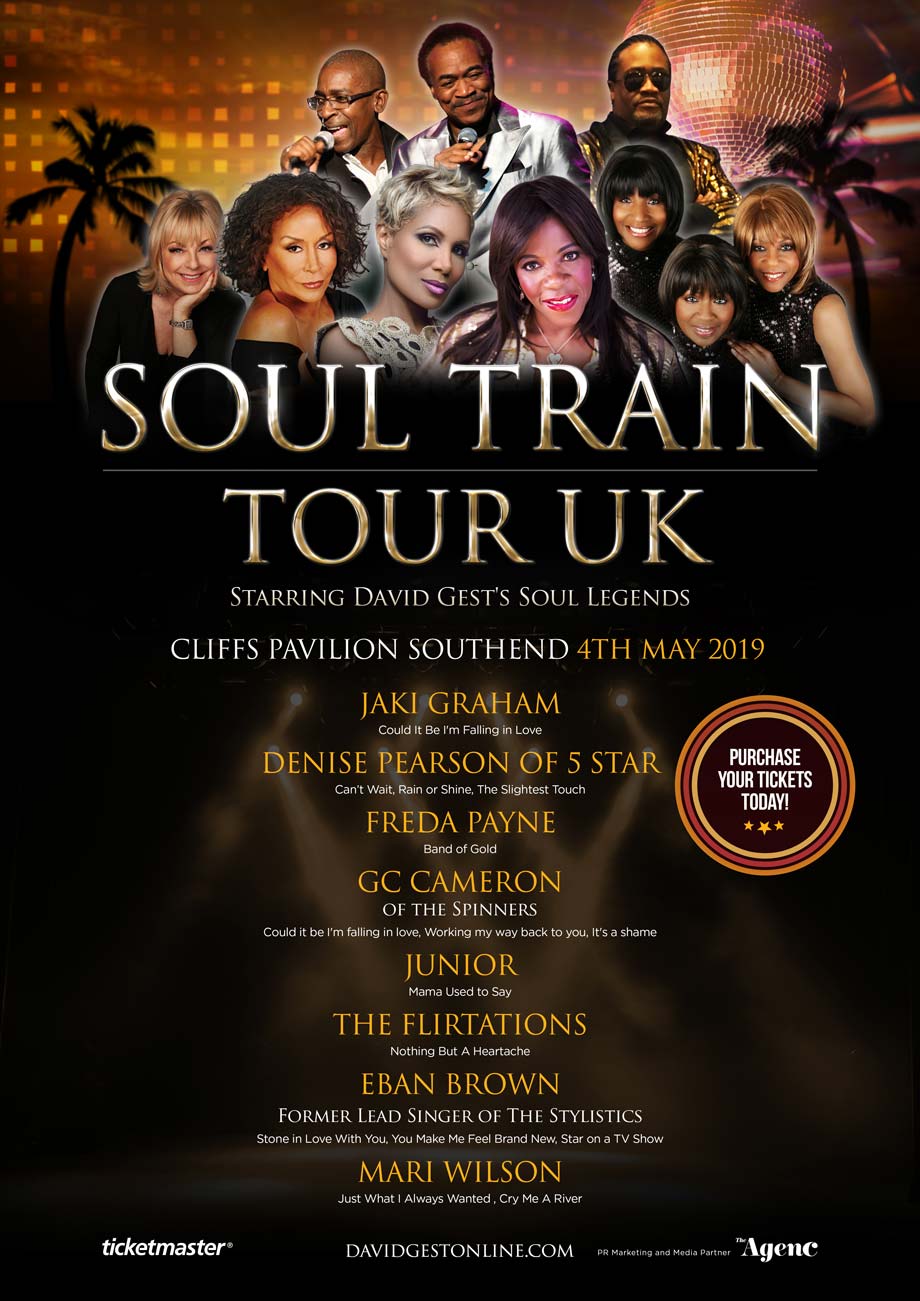 For the past decade music lovers have enjoyed performances from soul legends in a unique show created by the one and only David Gest. Each year he brought together a host of music icons who sang the songs which made them famous.  David Gest's Soul Legends will reunite for the SOUL TRAIN TOUR UK May 2019  to continue David's Legacy and support the David Gest Foundation.
STARRING
Jaki Graham. One of the most appealing Soul entertainers to emerge from the UK, as a true pioneer having paved the way for many a black British female solo artist who followed. Jaki achieved international success with a string of hits from '85 including Could it Be I'm Falling In Love?, Round and Around, Set Me Free, Step Right Up and Breaking Away, also making the Music Guinness Book of Records in the 80's as the first black British female solo artist to have 6 consecutive Top 10/20 hits.
Denise Pearson of Five Star. Five Star was the family group who had a string of soul-pop hit singles in the 1980s. With their self-designed costumes and choreographed dance routines, they made a huge impact on the UK pop music scene, despite the fact that the group were formed when they were all still teenagers.
Mari Wilson 'Just What I Always Wanted',  Freda Payne 'Band of Gold', GC Cameron of the Spinners 'Could It Be I'm Falling In Love, Working My Way Back To You, It's A Shame', Junior 'Mama Used To Say', The Flirtations 'Nothing But A Heartache',  Eban Brown former lead singer of 'The Stylistics' 'I'm Stone In Love With You, You Make Me Feel Brand New, Star On A TV Show'.
04 May 2019 SOUTHEND Cliffs Pavilion Tickets